Looking for exclusive access to a range of beautiful girls in pantyhose? We guarantee Pantyhose Studios will become your new favourite place. Our diverse group of sexy girls love nothing more than pulling on a pair of pantyhose and modelling their beautiful nylon feet and toes.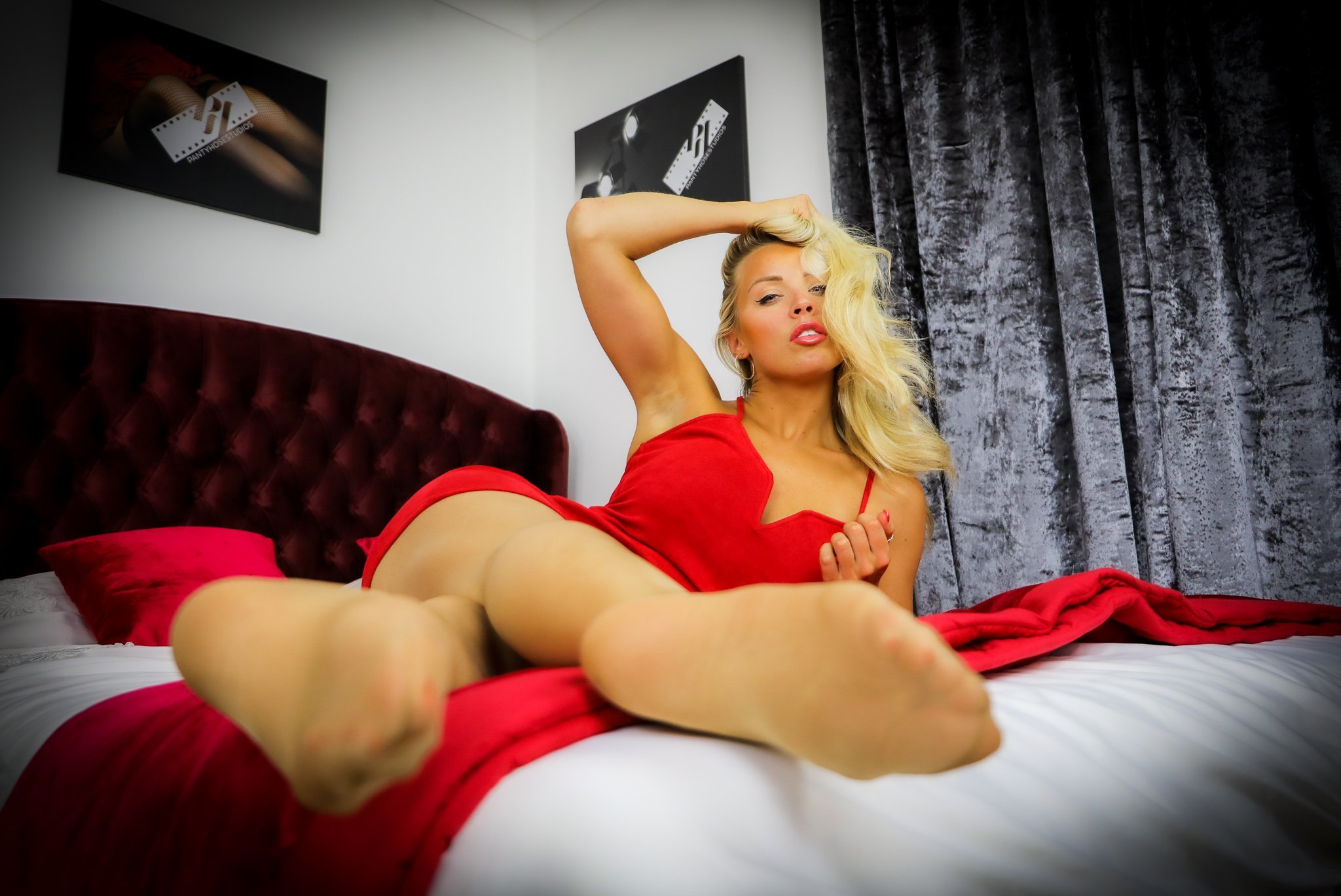 It's fair to say, we're the home of foot worship. A place for you to truly satisfy your nylon foot fetish amongst like-minded people. But what's more, as a member, you can really get to know our girls on a personal and intimate level. Content is updated on a day-to-day basis, whether that's by adding exclusive new images or videos to the gallery or with a new informative (yet erotic!) blog post. So, what are you waiting for? Become a member of the family and begin your nylon feet worship today!
Why choose Pantyhose Studios?
Here at Pantyhose Studios, our goal is to cater for all preferences. Whether you're a fan of pantyhose feet or it's full-blown foot worship that gets you going, whether your love to see nylon feet in stilettos or just bare, our memberships are guaranteed to satisfy your deepest desires.
Currently, there are 20 beautiful girls in our pantyhose family – all ready-and-waiting to display their nylon covered feet and legs. Numerous leading nylon pantyhose brands are worn, including Walford, Cecilia de Rafael, and Levante, and you will have access to close-up, seductive shots from all angles.
Our extensive video and gallery collection is updated regularly, with a daily drop-off of content for you to enjoy. You can also visit our exclusive online store and, if you wish, it's possible to order a personalised 'foot worship' video – tailored to your fantasies and for your eyes only.
With these benefits in mind, it's easy to understand why members stay loyal and re-new their subscription time and time again. Find out what all the fuss is about and sign up today!
Indulge in the ultimate nylon foot worship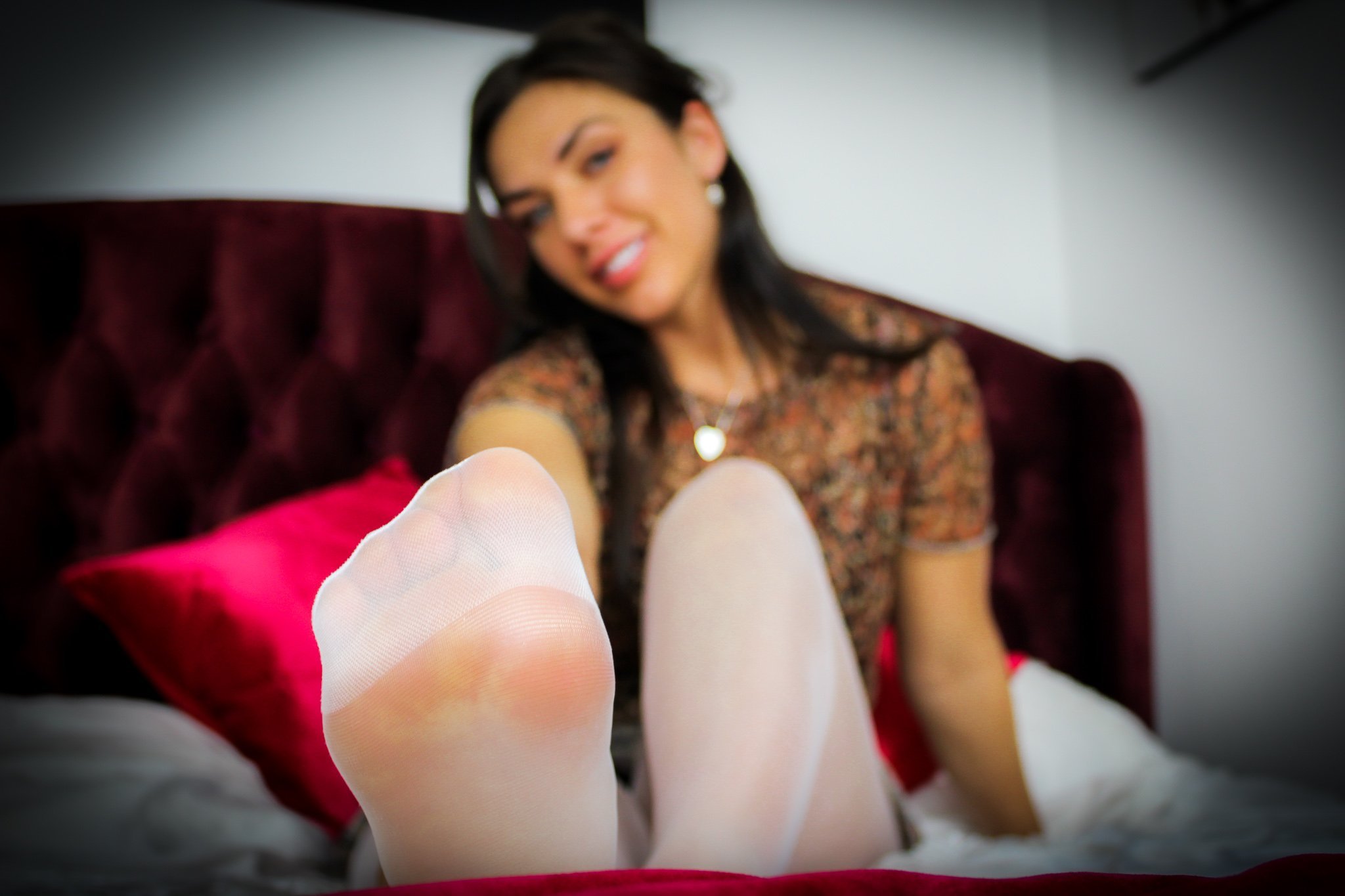 Your nylon foot fetish is unique and, here at Pantyhose Studios, we get that. Do you long to see a beautiful woman displaying sexy reinforced toes? Perhaps you like to show a woman how much you care by paying special attention to her feet? Or maybe it's about submission and power? Whatever it is that you love about nylon feet, we have the perfect content to deliver and meet your needs.
Our girls know exactly how to show off their best angles, giving you a sneak-peek of their pantyhose feet. Take a quick look through our gallery of images and videos and you will find our girls walking in open-toe and closed-toe stilettos, revealing tightly packed nylon toes, heel dangling with nylon pantyhose and more. They may even show a little glimpse up their skirts, if you're really lucky!
If you have a specific nylon foot fetish, they can also deliver a custom video to satisfy your specific needs. Simply sign up, tell us what it is that you like to see and we will take care of the rest.
A personalised film for your eyes only
Having subscribed to our studios, you'll also have the option to order a personalised pantyhose film – intended for your eyes only. This has proven to be very popular amongst our members.
Our girls are more than happy to think outside of the box and will tailor the video to meet your specific 'nylon foot worship' fantasies. Whether that involves a little domination role-play, donning a sexy pair of stilettos, or displaying their nylon feet in a particular way, they will happily comply for your pleasure.
You can simply tell us what it is about nylon feet that turns you on and we will make your dream film a reality. It's an opportunity of a lifetime, so don't miss out and order yours today!
A store dedicated to nylon feet worship
To fully satisfy your nylon foot fetish, as a member, you're free to visit our online store and purchase a piece of the action. Right now, our ladies are selling some of their used pantyhose and high heels – all of which are perfect for a lover of nylon feet and nylon foot worship.
You can choose a brand, pick out your favourite girl and specify exactly how long you would like the pantyhose to be worn – before they will be parcelled up and delivered with love to your front door.
Sign up to see pantyhose feet today
If you're looking for a way to indulge your nylon foot fetish, you can't go wrong with Pantyhose Studios. We have everything you need to fulfil your pantyhose desires and fantasies. Images, videos, and products can all be found in one place for you to enjoy, all of which are updated daily and can be personalised to meet your needs. We're all about connecting with members on a personal level, and – with one of our subscriptions – you'll truly become part of the family.
Our membership fees are priced very competitively and, in our opinion, are worth every single penny. You can choose from a 1 month subscription for $29.95, 3 months for $85 or 6 months for $150 and we continuously have seasonal deals and discounts available for our long-term members. It's also possible to gain access to our High Heel Studio for a small additional cost.
So why not select your ideal plan and join us today? Our sexy girls are waiting to get to know you and your nylon foot fetish and are 100% ready to enjoy a little nylon foot worship. If you have any questions, feel free to get in touch and send a message via our online contact form.