Let's face it. It's been a tough year.
But finally, the festive season is here – and whether you've been on your best behaviour for the last twelve months or are at the top of Santa's naughty list – we'd love to spoil you rotten.
We're all about the stockings, here at Pantyhose Studios, but NOT the family-friendly kind that you put beside the fireplace. This is a strictly adults-only area for anyone who appreciates the sexiness of ladies hosiery. And it doesn't matter if you're new to our website or a loyal member, we guarantee, we have something to put a smile on your face and make your wish list come true.
So, why not take a look today?
A Christmas wish list of pantyhose goodies
Christmas is a time for indulgence; a time to splash out and treat yourself to something naughty. And trust us, it doesn't get any naughtier than Pantyhose X. This is the ideal subscription for anyone who would like to take their fetish to the next level and start getting excited for the big day.
As a member, you'll be granted access to a very special gallery of X-rated pantyhose videos, in which our stunning girls go topless for your pleasure in exotic locations. Each film features more than one pantyhose babe and you can expect everything from raunchy strip teases and foot worship to wet nylons and whips. A magical gift that will allow you to explore your deepest, darkest desires.
Either choose a one-month subscription to last the festive season. Or, for a gift that will keep on giving, why not spoil yourself and opt for a cheeky three-month subscription instead?
Want to get into the festive spirit? Our exclusive 'Christmas Trio Special' is sure to do the trick.
Available to buy in our online store – for the reduced price of $95 – this is 15 minutes of pure erotica heaven, with a flirty festive twist. Gabrielle is joined by two other pantyhose babes, as they pose for the camera in sexy Santa outfits and worship each other's nylons by the Christmas tree. The perfect stocking filler, which you'll find yourself watching time and time again throughout the year.
Alternatively, if you have a specific 'Christmas' fantasy in mind, why not request a custom video? Perhaps you dream about a naughty elf in nylons? Or would like to see special festive pantyhose? Our girls are open-minded and happy to try most things to make your Christmas wishes come true.
This is one for members who have been really nice this year and deserve an extra-special treat.
Available to buy from our 'worn' store, we have a range of sexy used pantyhose – all of which are ready to be gift-wrapped and delivered to your front door in time for the 25th! These products have been worn during filming, sometimes by multiple girls on more than one occasion. And as such, they have a heady feminine scent and could be just what you need to spice up your Christmas.
We have a selection of high-end brands and styles for you to choose from, from ultra-sheers through to bright fishnets, and you can specify exactly how long you would like them to be worn.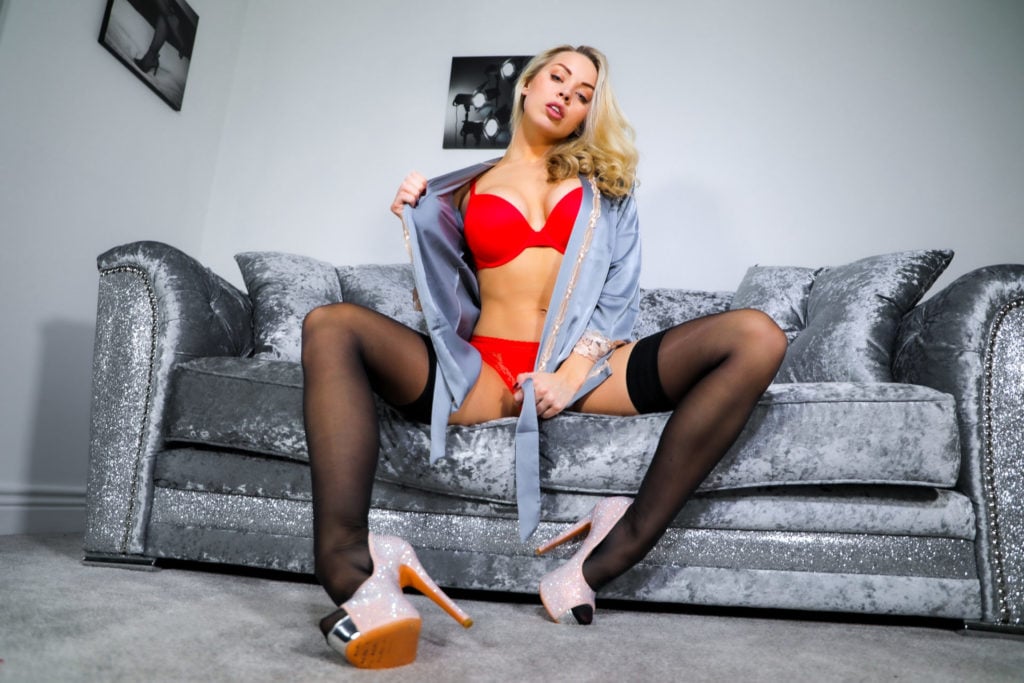 Ready to treat yourself?
Go on, you know you want to. Christmas is a time for giving and we want to give you something special. We don't care if you've been naughty or nice. Either way, you deserve a little bit of our pantyhose love in your life this December. So why not take a look in our pantyhose store? Sign yourself up for a new subscription? Or get in touch and request your dream custom video?
Let us make Christmas 2020 one that you'll never forget.