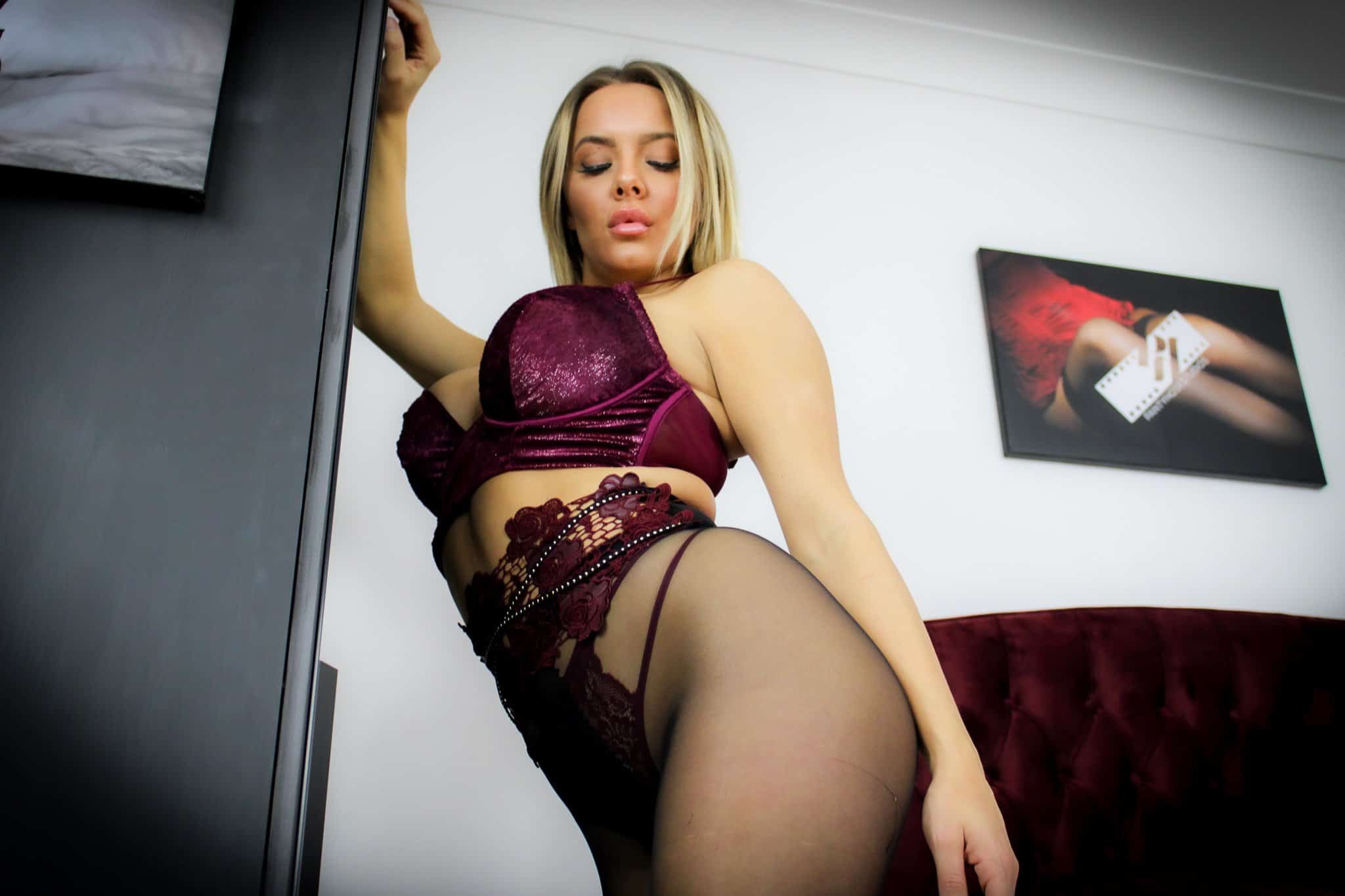 What's The Difference?
Think that pantyhose and tights are the same thing? Most people do – and, to a certain extent, they're right. These two popular garments share a lot of similarities. But there's also a number of subtle differences between the two as well. 
As the home of girls in pantyhose, it's fair to say, we're an expert on this topic. The sexy ladies at Pantyhose Studios are a fan of both pantyhose and tights and – within our gallery of seductive photos and films – you'll find them slipping on both and trying a variety of styles for your pleasure. The more of these exclusive filmsthat you see, the more you will become attuned to their individual characteristics. All you have to do is look… and in time, we guarantee, you'll become an expert too!
How are pantyhose and tights similar?
Intended purpose
Both pantyhose and tights are made with the same practical purpose in mind. Essentially, to keep the lady warm. They're an extra layer of material, designed to be worn under a skirt or dress, offering protection against the harsh winter weather.
But, of course, they also accentuate the shape of a woman's legs and look incredibly sexy. As such, both garments are also commonly used to add a touch of intrigue and excitement within the bedroom department.
Close-fitting
Pantyhose and tights are also similar in terms of their fit. Both are designed to hug the woman's figure. Starting from the waist, they follow the contour of the legs and stretch all the way down to the wearer's feet. This is in contrast to stockings, which – although similar in terms of their close-fit – only stretch from the feet to the thighs.
A variety of colours and patterns
A further similarity between pantyhose and tights is their diversity. Both are available in a wide range of colours and styles. The most popular include smooth black and nude, but this is only the tip of the iceberg. Lacy, fishnet, patterned, back-seamed. White, navy, purple, hot pink – the possibilities are endless.
If you have a particular preference, let us know and we will create a custom video for your eyes only – with pantyhose or tights in the exact shade and style that you like. Our girls are open-minded and very willing to give your favourite a try.
What is the difference between pantyhose and tights?
It's all about the denier
The main difference between pantyhose and tights is the thickness of the material from which they are made. This is referred to as 'denier' – and the higher it is, the thicker they are.
Generally speaking, tights range from 40-100 denier. They're often dark and opaque and will completely mask the colour of the skin underneath. By contrast, pantyhose range from just 8-30 denier. They're an incredibly sheer, almost see-through garment – which hide any blemishes and give the woman's legs the shapely and sensual look that we all love to see.
Materials
In addition, pantyhose and tights are also made from different materials. Whilst tights can be made from a wide range of textiles – including nylon, cotton, silk, polyester, and more – pantyhose are only typically made from nylon. This is why they often have a shinier and silkier appearance than tights. Combined with a thin, almost transparent denier, they're the preferred choice to create a sexy and seductive look.
Underwear vs no underwear
Pantyhose and tights also differ in terms of how they are supposed to be worn.
In most cases, tights are paired with underwear. They are a separate garment, that should be layered over the lady's favourite panties, and styled with a short skirt or dress. Pantyhose, on the other hand, can be worn without underwear – which only adds to their sex appeal. Typically made from nylon, the upper part offers panty-like support and gets gradually thinner from the thighs down to the toes.
Designed for different occasions
A further difference between pantyhose and tights is their intended use. Tights are generally regarded as a casual item of clothing. Thanks to their durable construction, they can be worn on a day-to-day basis – perhaps to complete an outfit for a meeting at work or to have lunch with friends.
Pantyhose, by contrast, are viewed as a sexy piece of lingerie – something that should only really be taken from a woman's panty drawer on special occasions. That could be for a formal event, when you're expected to dress to impress, or teamed with a cute babydoll for evenings in the boudoir.
An alluring education in pantyhose and tights
Want to know more about the difference between pantyhose and tights? Why not subscribe to one of our membership packages, here at Pantyhose Studios? Thanks to our exclusive gallery of photos and films, you can get up-close-and-personal with both pantyhose and tights and see the subtle similarities and differences for yourself.
Our girls are ready and waiting to try on a variety of different styles, including pantyhose and tights in various deniers, colours, and patterns. Pulling these racy garments up over their long lovely legs, they're happy to give you intimate close-up shots of both. It's also possible to request custom videos of our girls in pantyhose. Whatever your personal hosiery fantasies, we can make the perfect film for you.
So, what are you waiting for? Sign up today and indulge in your pantyhose fetish! If you have any questions about the membership packages available or would like to discuss your request for a custom pantyhose or tights video, you're always welcome to get in touch. Simply send us a message using the online contact form and a member of our team will get back to you. If you're lucky, it may even be one of the girls!